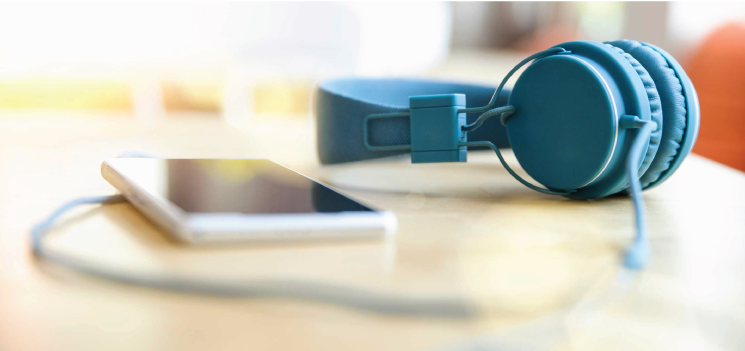 WHAT ARE YOU LISTENING TO…?
THE BEST PODCASTS OF THE YEAR (SO FAR)
We're more than halfway through 2017, and trying to make sense of the daily news has become a skill unto itself. The post-Serial transformation of podcasting from niche to mainstream is old news at this point, but in this era of uncertainty and flux, the role of online broadcasting has become more prominent than ever. Between the wave of new bite-sized morning update shows designed to keep up with the frenetic pace of news coming out of the Trump administration, it's a great time to be a politically-minded podcast listener. And if you'd rather avoid reality entirely with some rich, atmospheric storytelling or true-crime thrills, you're covered.
Here are the 10 best podcasts of 2017, so far.
1. espnW presents Be Honest with Cari ChampionI may be a little biased, but my fellow UCLA Bruin and long time friend
I may be a little biased, but my fellow UCLA Bruin and long time friend has a podcast called Be Honest where athletes, artists, activists and more feel comfortable being, well….honest! You hear a side of things that you're normally not privy too. And prepare to laugh… ALOT.
2. S-Town
The strangest, saddest, most bewitchingly human story of the year so far came out of the This American Life team with their second spinoff podcast after Serial. To say too much about S-Town is to ruin the slow-burn impact of its wildly unpredictable real-life Southern Gothic story, which explores the life and locale of a chronically dissatisfied Alabama man named John B. McLemore. The team were approached by McLemore, who asked them to investigate allegedly widespread corruption in his town, and specifically a local man who was bragging about getting away with murder. From that true-crime sounding premise, S-Town evolves into a complex and haunting character study.
3. Nancy
One of WNYC's newest shows already feels like an essential classic. Hosted by Kathy Tu and Tobin Low, Nancy offers provocative, frank, and funny conversations about the modern LGBTQ experience. Stories run the emotional gamut: there's an episode all about coming out, an episode exploring queer representation (or the lack thereof) in the Harry Potter series, and this week's stunning episode, "Here's What It's Like," which features two generations of people living with HIV.
4. Terrible, Thanks For Asking
Author and self-described "notable widow" Nora McInerny hosts this revealing talk show, which deals in honest, non-BS answers to the question, "How are you?" The subject matter is often extremely dark—there are stories of irreparable brain damage and devastating career mistakes, several deep-dives into the process of dying and grieving, and one exceptionally harrowing episode about a vicious sexual assault. But every terrible story brings with it a ferocious sense of hope, thanks to the insightful honesty of TTFA's subjects and the humanity with which McInerny draws out their stories.
5. The Daily
Twenty minutes a day, Monday to Friday of every week, dropping shortly before 6 a.m., The New York Times's Michael Barbaro covers the essentials of "what you need to know today". It's a reassuringly consistent way to feel like you're at least keeping moderately on top of things, and the show offers an inside track on scoops like Emily Steele's Bill O'Reilly exposé, or Maggie Haberman and Glenn Thrush's consistently revelatory White House reporting.
6. Crimetown
This show had us at "from the creators of HBO's The Jinx", and went on to meet and exceed the expectations set by that tease. Each season of Crimetown focuses on the culture of crime in a different American city, with the now-complete season one focusing on Providence, Rhode Island, where "organized crime and corruption infected every aspect of public life." Zac Stuart-Pontier and Marc Smerling host this series of true-crime vignettes, which comprise an investigative deep-dive into a city populated, as the show puts it, by "crooked cops and honest mobsters," a story where the moral lines are continually blurred.
7. Missing Richard Simmons
Morally suspect? Arguably. Increasingly uncomfortable listening? Sure. Now rendered irrelevant by subsequent developments? Absolutely. But for any conversation about the most culturally impactful podcasts of 2017, Missing Richard Simmons is indispensable. Fitness guru Richard Simmons disappeared in February of 2014—he stopped teaching his regular classes, cut off all communication with his friends, and seemingly became a recluse —and nobody knew why. Filmmaker Dan Taberski, a friend of Simmons', sets out to find out what happened.
8. Up and Vanished
Ever since Serial sparked a fresh wave of interest in the 1999 murder of Hae Min Lee, and ultimately led to her convicted killer Adnan Syed being granted a new trial, a wave of copycat true-crime efforts have sprung up across the podcast landscape. Podcasters of varying qualification have set out to re-examine cold cases in the hopes of finding new evidence, and one of the most successful to date is the Georgia-based Up and Vanished. In 2005, high school teacher and beauty queen Tara Grinstead disappeared from her apartment in Ocilla, Georgia, a case that was never solved and became "the largest case file in Georgia history". Documentarian-turned-podcast host Payne Lindsey sets out to find answers, and without spoiling too much… he gets them.
9. Homecoming
A psychological thriller so gripping, tightly scripted and star-studded that it feels like a movie in your memory. Told largely through a nonlinear series of phone calls and taped therapy sessions, Homecoming stars Catherine Keener as a case-worker at a mysterious government facility who is assigned to treat a soldier (Oscar Isaac) with severe PTSD, and gradually comes to suspect that her facility's treatment program—and the agenda of her boss, played by David Schwimmer—is not quite what it seems. Season two is coming, and a TV adaptation is also in the works from Mr Robot creator Sam Esmail, so now's the time to get caught up.
10. Las Culturistas
Matt Rogers and Bowen Yang are a pair of comedians and pop culture obsessives who devour the best—and worst—of the entertainment world. Each episode features a special guest (comedians Rachel Bloom, John Early, Sasheer Zamata, and Phoebe Robinson have all made appearances), joining to chat with the hosts about a variety of pop culture topics without breaking Rogers and Yang's brilliant, rapid-fire chemistry. The seminal moment of the show, however, comes at the end of every episode, when the hosts and guests take a minute to rip apart a cultural topic in the laugh-out-loud hilarious segment called "I Don't Think So, Honey!"
If you're listening to a great podcast that's not on this list, let me know. I'd love to share it. And, of course, if you're considering buying or selling real estate, I'd love to listen to what your needs are… and help you meet them. Give me a call.